Azərbaycan Xalq Cümhuriyyəti hökumətinin 1918-ci il 28 may tarixli qərarı ilə maarif və təhsil üzrə ilk nazirlik-Xalq Maarifi Nazirliyi yaradılıb. Nazirlər Şurasının 30 iyun 1918-ci il tarixli qərarı ilə Xalq Maarifi Nazirliyinin üç şöbədən (ümumi orta təhsil, ali və orta ixtisas təhsili, peşə məktəbləri) ibarət strukturu təsdiq olunub.

Azərbaycan SSR Xalq Komissarları Sovetinin 28 aprel 1920-ci il tarixli qərarı ilə Xalq Maarifi Nazirliyinin adı dəyişdirilərək Xalq Maarifi Komissarlığı adı ilə yenidən təşkil edilib və ölkədəki bütün təhsil müəssisələri bu qurumun tabeliyinə verilib.
Back
International STEAM Azerbaijan Festival 2022 Starts on 5 December, 2022
The International STEAM Azerbaijan Festival 2022 (SAF 2022) will be held at the Baku Expo Center on December 5-9, 2022, within the STEAM Azerbaijan project and with the support of the Ministry of Science and Education of the Republic of Azerbaijan.

The purpose of the festival is to support STEAM-based education, nurture 21st century skills among students, identify and network creative, digital tech-savvy students, and research international experience in innovation and digitalization.

SAF 2022 is organized in the format of a competition in 10 categories, as well as in the format of an exhibition of cutting-edge innovations projects in 1 category. More than 1300 participants from Azerbaijan and 7 other countries will immerse in sharp competition, learning, and fun.

All general education and higher education (public, private, etc.) students from every district and city in the country, as well as international students, are eligible to compete in numerous categories in the form of the teams. Along with the students from other educational institutions, applications are accepted from vocational, secondary, extracurricular educational institutions, independently, for the category of "Exhibition of creative projects" conducted within the festival.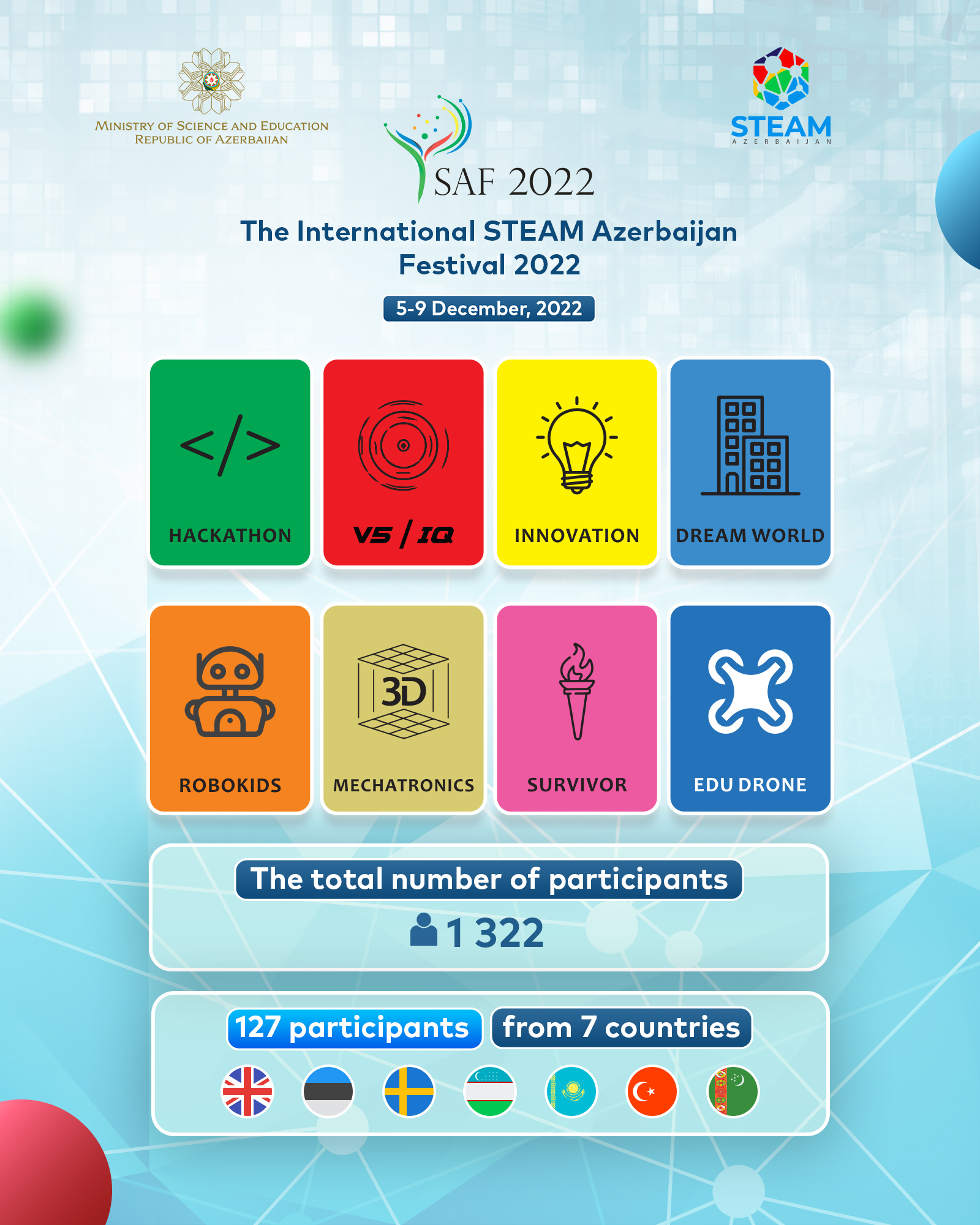 ---
03.12.2022 - 14:46