Azərbaycan Xalq Cümhuriyyəti hökumətinin 1918-ci il 28 may tarixli qərarı ilə maarif və təhsil üzrə ilk nazirlik-Xalq Maarifi Nazirliyi yaradılıb. Nazirlər Şurasının 30 iyun 1918-ci il tarixli qərarı ilə Xalq Maarifi Nazirliyinin üç şöbədən (ümumi orta təhsil, ali və orta ixtisas təhsili, peşə məktəbləri) ibarət strukturu təsdiq olunub.

Azərbaycan SSR Xalq Komissarları Sovetinin 28 aprel 1920-ci il tarixli qərarı ilə Xalq Maarifi Nazirliyinin adı dəyişdirilərək Xalq Maarifi Komissarlığı adı ilə yenidən təşkil edilib və ölkədəki bütün təhsil müəssisələri bu qurumun tabeliyinə verilib.
Back
"Virtual school" project
Date of creation: 2020

Goal: The project is aimed at ensuring the continuity of education in our country when interruptions occur in the activities of educational institutions due to the COVID-19 pandemic.

Information: The distance learning process are already organized on the basis of national educational content and conducted via an interface translated into Azerbaijani language. Extensive possibilities such as video and audio lessons, group works, information sharing, homework exercises, assessments, teaching schedules, knowledge contests, teacher councils and monitoring mechanisms are being currently used.

Scope of the coverage: Over 1.4 million students are registered. In January 2021, the number of weekly classes exceeded 6 million and the number of active users exceeded 1.2 million.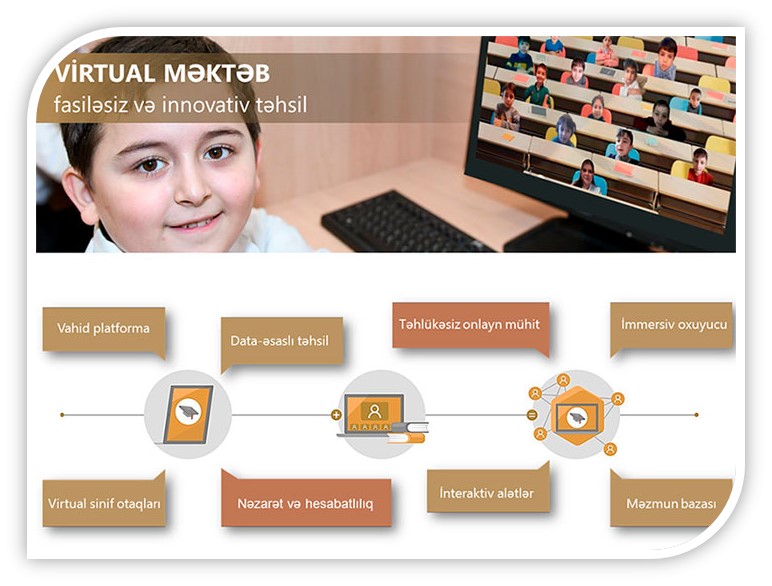 ---